Cyrus One on Demo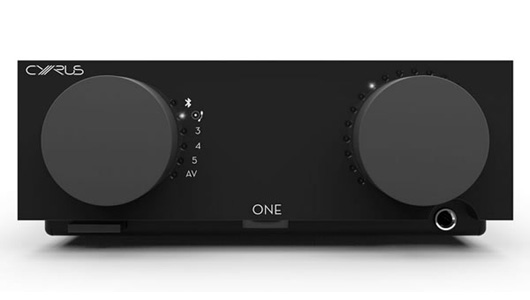 The new Cyrus One as an excellent sounding compact integrated packed with many features.  Don't let it's size fool you as it produces 100w x 2 and equipped with large toroidal transformer. The Cyrus can be easily integrated to any home theater system using it's HT bypass input.
Other Features
Bluetooth
aptX® compatible Bluetooth enables you to stream music from your phone/tablet or computer via a wireless Bluetooth connection, providing maximum flexibility without the need for a home network or any complicated set up. This allows everyone in the family to enjoy their music from their portable devices quickly and easily.
Moving Magnet Phono
Cyrus ONE features a built-in phono stage that is compatible with all moving magnet cartridges and requires no adjustment or extra set up, enabling you to play all your favourite vinyl from most turntables.
Speaker Impedance Detection
SID – Speaker Impedance Detection automatically matches the amplifier's output response to the electrical load of the loudspeakers. This means that matching Cyrus ONE to any brand of loudspeaker has suddenly been made so much easier.
Headphone Amplifier
The high power, high voltage class AB headphone amplifier will drive almost all headphones with ease and with an output on the front, the Cyrus ONE offers a level of musical performance for the personal listening experience that is also easy and convenient.
Reviews
Hi-Fi Choice
the level of performance it has achieved within a single svelte box for a modest price, means seasoned audiophiles should be tempted. Thoroughly recommended." Chris Ward