Focal Kanta On Its Way
After auditioning these speakers several months ago we are pleased to announce that our first shipment will arrive next week. Our initial impressions of the Kanta's where exceptional with the same airy effortless sound that we found in Focal's Sopra range. One noticeable difference is the cabinet which uses a one piece high density polymer. This new polymer is 70% more dense than MDF, 15% more stiffer and has 25% more damping. This also allows for a smaller cabinet without compromising in sound quality. In the near future the Kanta line will be complete with a larger tower, stand mount and a center for future home theater applications. Come down to see Focal's latest addition and hear why it was so hard for us to keep it a secret.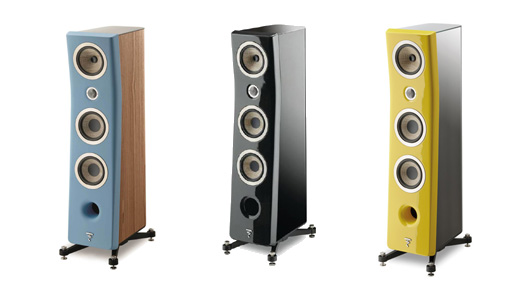 The first in it's lineup is the Kanta 2 a 3 way floor stander speaker available in many different finishes.
Type 3 way bass-reflex floor standing loudspeaker Drivers Two 61/2'' (16.5cm) Flax woofer with NIC motor 61/2'' (16.5cm) Flax midrange with TMD suspension and NIC motor 11/16'' (27mm) 'IAL3' pure Beryllium inverted dome tweeter Sensitivity (2,83V/1m) 91dB
Frequency Response (+/-3dB) 35Hz – 40kHz Low Frequency Point (- 6dB) 29Hz
Nominal Impedance 8Ω Minimum Impedance 3.1Ω
Recommended Amplifier Power 40 – 300W
Crossover Frequency 260Hz – 2,700Hz
Dimensions (H x W x D) 441/64 x 1825/32 x 1241/64 (1,118 x 477 x 321 mm) Net weight (with front grille) 77.2lbs (35kg)
Packaging dimensions (HxWxD) 4939⁄64 x 2711⁄64 x 1617⁄32'' (1,260 x 690 x 420mm) Total weight (including packaging) 88.2lbs (40kg)