Focal Audio
Take a look inside Focal's Factory in France. All Focal Hi-fi products are built to the highest standard and built in house from start to finish.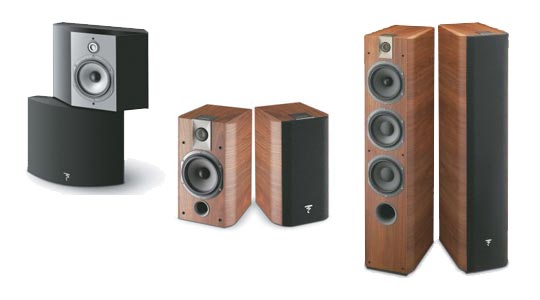 Focal 700 Series
With this fourth generation Chorus 700, Focal set itself the challenge of modernising these benchmark speakers, making their quality, their unique sound signature and their renowned technologies available to the greatest possible number of audiophiles. While retaining the DNA of previous models in the Chorus range, the new generation Chorus 700 benefits from a design and a quality totally in keeping with modern-day expectations: remarkable audio audio performance and at the same time greater value and more classic design. Technological innovation, tradition and exclusive design – these are the hallmarks of "the Spirit of Sound".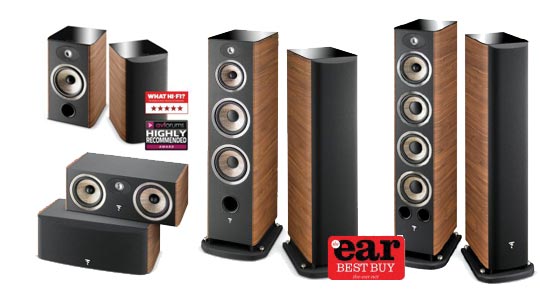 Focal Aria Series
Aria 900 marks a new milestone for Focal and a new chapter in highfidelity technology.
Designed and made in France, the range features brand-new speaker drivers with Flax sandwich cones, new TNF Aluminium/ Magnesium inverted dome tweeters with Poron suspension, injected zamak baskets, carefully designed cabinets and crossovers: nothing has been spared when it comes to maximising listening pleasure for well-informed music lovers.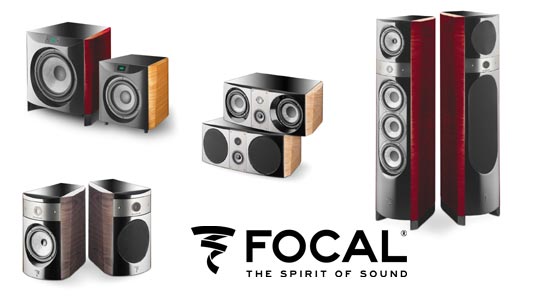 Focal Electra
In 2003, the Utopia line inaugurated a revolutionary technology: the pure Beryllium inverted dome for which Focal now holds two manufacturing patents. Ultra-light (21mg), but rigid (7 times more rigid than titanium or aluminum for the same volume-mass), Beryllium possesses absolutely fantastic properties to create an exceptional tweeter. Add to this the capability to surpass 40kHz without break-up, and at high-pressure levels. Last but not least, it stands out with excellent linearity thanks to its high internal damping, which inhibits resonance and distortion at the far reach of its frequency range. For Electra 1000 Be, we decided however to direct our attention to an entirely other direction, as we felt that there remained other challenges to pursue and that the 40kHz that we had achieved was certainly sufficient for perfect reproduction of treble. Our new goal with the IAL (Infinite Acoustic Loading: the creation of an extremely high-bandwidth tweeter, that would be able to descend in frequency as far as possible, in order to take over from the midrange as early as possible. The stakes: create a design where the critical frequency range of 2000 to 5000Hz, where the ear is most sensitive, can be reproduced by an ultra-light tweeter dome. The 2009 version, which dome diameter goes from 25 to 27mm, optimizes the recovery of the cut-off frequency and improves dynamics and precision.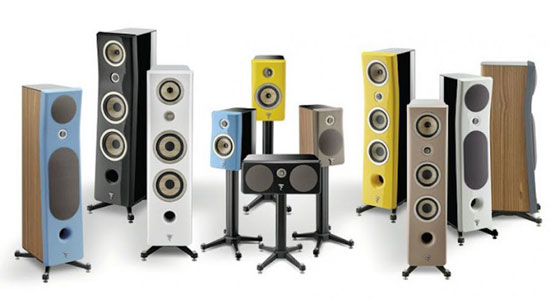 Focal Kanta
Be surprised by Kanta, highly original speakers that will reconnect you with your music. Entirely dedicated to acoustic performance and with a resolutely bewitching aesthetic: that, in a nutshell, is the Kanta DNA! It took three years of research and development to create this model, Kanta No. 2, the first in the range. With their new materials and effectiveness-focused design that give them their powerful identity, they come straight from our engineers' hearts.
Focal Sopra
Focal's newest range of speakers. The new Focal Sopra series is of the best speakers we have heard in a long time regardless of price. Developed from technologies from the world renown utopia series the Sopra series added three more key technologies to the Sopra Lineup.
NIC(Neutral Inductance Circuit):  Stabilizes the magnetic field for better dynamics and lower distortion.
TMD(Tuned Mass Damper): With new developing software Focal was able to optimize the suspension profile to control resonance which drastically reduces distortion and increase the detail and definition of mid range and bass
IHL(Infinite Horn Loading): This system allows the beryllium tweeters rear wave to be gradually absorbed to avoid any distortion. This gives a much more spacious sound with less distortion.