Contact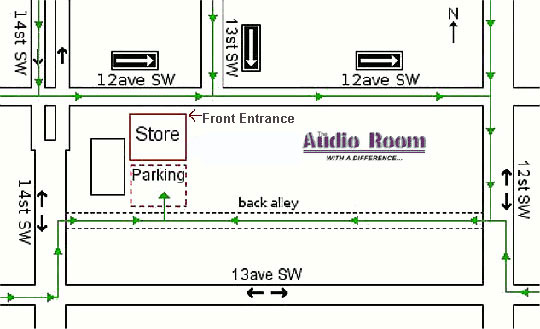 The Audio Room
Customer Parking at Rear(south side)

Entrance North side
Ph: 403.244.0899 Email: info@theaudioroom.ca 
Address:
1347 12th Ave. S.W.
Calgary AB T3C.0P6
HOURS
Closed New Years Day
Tues/Wed: 11:00-5:30
Thurs-Sat: 1100-5:30
Sun/Mon: Closed
To all of our valued customers:
In response to the rapidly escalating COVID-19 virus public health concerns, we have decided to act with the interests of all Albertans in mind.
–      As of March 23, we will be closed Sun to Wed
–      Wednesday by appointment only
–      Store hours Thur to Sat 11:00 a.m. to 5:00 p.m.
–      An appointment is NOT required, but preferred
–      Contact us by email regarding your orders and questions, info@theaudioroom.ca
–      Please call, leave a message, voicemail will be monitored – your patience is appreciated.
–      Drop shipments possible – please discuss with our sales team
–      Store surface areas will be sanitized and wiped down between customers and appointments
We apologize for any inconvenience our reduced hours may cause, but our main priority is the health and safety of all our customers and staff and all those that may come into contact with them over the next few weeks.
Please refer back to this website for updates.  We look forward to serving you today and in the future.
The Audio Room team