Cinematic of excellence
We are proud to be announced one of approximately ten Arcam of Cinema of excellence retailers in Canada.
About Arcam's Cinematic of excellence
World class audio and specialist dealers to help you get the best from your home cinema products
Arcam has partnered with some of the finest audio-visual retailers around today. In their Home Cinema demonstration rooms you will be immersed in an entertainment experience that will make you appreciate the magic that happens when you combine ultra- high definition audio with ultra-high definition video.
World class cinema sound and music reproduction with State of the Art video.
An Arcam object based home cinema on permanent demonstration.
Latest, most advanced equipment set ups to deliver a truly engaging experience.
Enthusiastic and knowledgeable staff with a real passion for home cinema.
Friendly, non baffling presentations.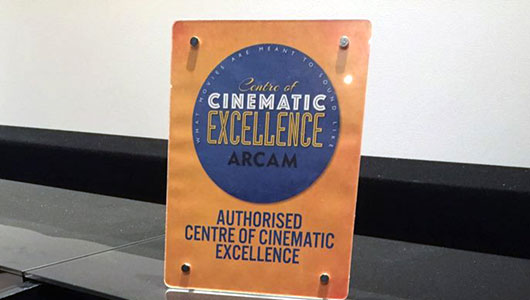 Let our highly trained dealers guide you
The teams at the Centres of Cinematic Excellence have the knowledge and training to ensure from your first demonstration until your new Arcam system is installed that you will be thrilled by the results.
Advanced Arcam and Dirac Live Training
Our Home Theater specialists visited Arcam's Head office in Cambridge UK to receive hands-on Dirac Live training. Our environment is one of the most important considerations in achieving excellent sound quality.
Maintain the original voice engineering of your loudspeakers
Fix all problematic room modes across the entire frequency spectrum
Timbre match all speakers for seamless integration of all loudspeakers
Ensure quality performance in both Music and Movie playback
Calculation of proper speaker positioning and placement