Onkyo TX-RZ810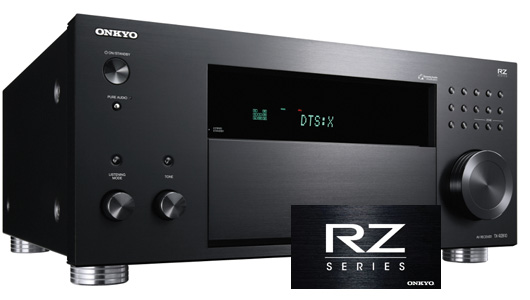 We are excited about the new Onkyo RZ series Home Theater Receivers. Over the past 10 years we have found it more difficult to find Receivers, that focus on audio performance and features. Lately it always seems one or the other. With the New RZ series from Onkyo it incorporates high quality transformers with Audiophile grade parts. Drop in have a listen to some of the highest quality affordable home theater systems.
Some info on the Onkyo TX-RZ810
Engineered for immensely powerful yet refined THX® Theater Reference sound, the TX-RZ810 also deftly streams wireless audio with Google Cast™, AirPlay, Wi-Fi®, and Bluetooth. Enjoy different a host of audio sources in different zones with Powered Zone 2 and Zone 3 line outputs or wirelessly with FireConnect powered by BlackFire. Zone 2 HDMI® shares 4k video on a second display, making the TX-RZ810 not only a wall-shaking movie-room powerhouse at 200W/Ch, but also a hub for housewide entertainment. Built with separate analog and digital processing, massive transformer, huge capacitors, and discrete non-phase-shift amps—the TX-RZ810's sheer agility and dynamism exceeds the highest expectations.
THX®-Certified for Theater Reference Sound
THX® certification guarantees the same high volume and low distortion levels you experience in a commercial theater in your listening room. THX® Select2™ Plus is recommended for screen-to-seat viewing distances of 10 –12 feet (3 – 4 m).
To achieve THX® certification, amplifiers must undergo a barrage of the industry's toughest independent bench testing to satisfy THX® requirements.
DYNAMIC AUDIO AMPLIFICATION. IT'S SERIOUS.
Upgraded components, such as the massive transformer and custom capacitors, provide high instantaneous current for lightning-fast transient response and a frequency range that extends down to 5 Hz.
Discrete amp circuits prevent phase shifting for an accurate audio image, cutting distortion even at floor-shaking volumes. It's a serious build for those serious about sound.
NOISELESS AUDIO PROCESSING
Vector Linear Shaping Circuitry is a mouthful, so we call it VLSC™. This circuitry virtually removes digital pulse noise for a smooth analog signal. RZ810 features VLSC across all channels.
Data is converted between sampling points and these points are joined with analog vectors in real time to produce a smooth output wave form. The result is a virtually noiseless, smooth, analog signal based on the digital source. It brings out even the most subtle of nuances in audio sources.