Tannoy Canterbury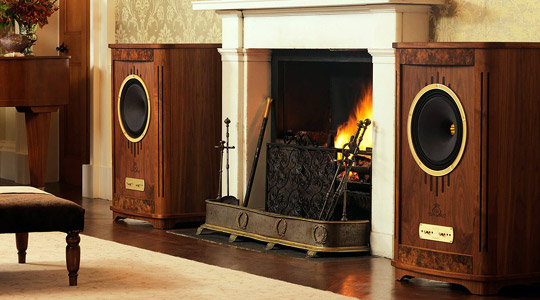 Have a listen to the famous Tannoy prestige, 15-inch dual concentric driver. We will have these large 235 liter speakers on display for the next few weeks. If you got a chance or in the area have a listen to these amazing speakers!
A word from the Manufacture
The new 15 inch Gold Reference driver is TANNOY's most powerful and articulate Dual to date, boasting an incredible 600 watt peak power handling and offering over 96dB efficiency in the 235 litre Canterbury GR cabinet.
The legendary 15 inch Dual has been upgraded extensively for the Gold Reference series with many of the enhancements being 'trickle-down' technology from TANNOY's flagship Kingdom Royal development project. The low frequency section of the GR driver has a new fibre enriched paper pulp cone material to realise further improvements in the cone's mechanical characteristics. The cone is terminated with a twin roll surround of impregnated fabric for improved damping characteristics. The Canterbury GR's HF unit marks a significant leap forward in the technology and performance comprising a new aluminium-magnesium alloy compression driver diaphragm that has been heat treated to further improve it mechanical integrity under HF loads. The use of new Mylar surround materials offer improved damping and motor cooling, resulting in exceptional clarity and articulation throughout the HF range. Capable of high-volume listening without fatigue, the Gold Reference Dual brings even greater naturalness and presence to the TANNOY Canterbury loudspeaker.